Create your escape - occupy a shipping container.
Save money, time, and lots of headaches leveraging a box and a build kit from Box Up.
ENDOSKELETONS
Light your space up and protect it from the weather and the raw steel.
The Vault
Outfit only a portion of your shipping container with the Vault Endoskeleton Kit for an economical kit that gives you enough room to accomplish your objective while saving unnecessary costs or allowing for a durable 'mud' room area.
Tough Sub
Fully outfit the walls and ceiling of a 20' or 40' box for whatever your escape dictates with the Tough Sub Endoskeleton Kit. Fully enclosed maximizes the space utilization of your shipping container in an insulated and ready to play or work space that is still fully mobile.
To get an idea on what to think through with your project download our guide to "cargotecture":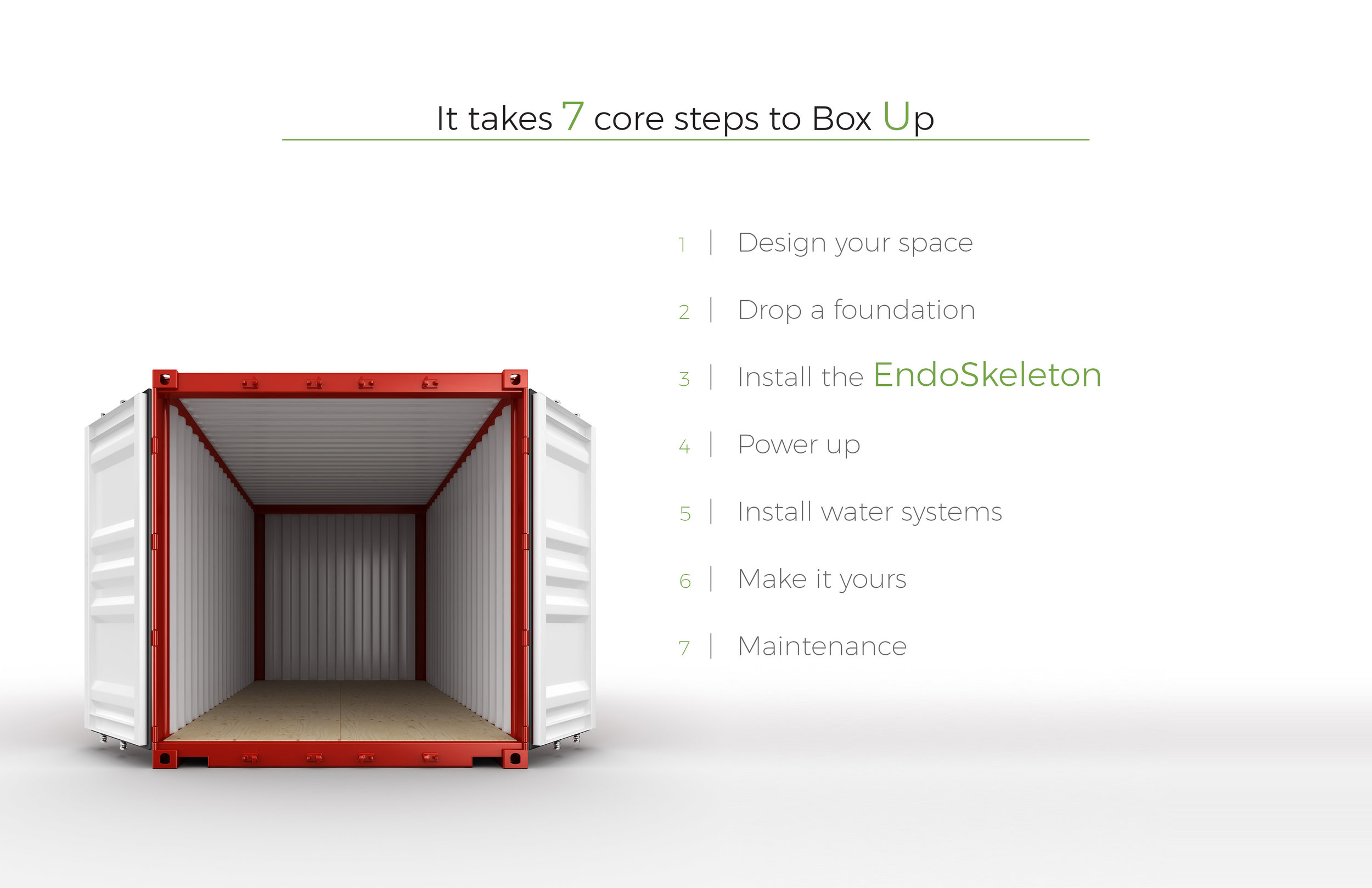 WATER SYSTEMS
Below are the water systems that will convert your crash-pad into a more habitable space. Not a plumber? No problem with our pre-assembled and turnkey kits.
Grey Water Tank
Looking for a simple solution for your shower and sink waste? This turnkey grey water system from Aqua2 simplifies the process into a plug and play system. Combined with Box Up providing necessary accessary plumbing supplies you can be plumbed in with less time than the first shower you'll take with it. Price includes shipping.
Grey Water Tank Supplementary Kit
Turnkey grey water tanks are not quite turnkey when it comes to plugging it into your system. Looking to save a trip or two to the big box store for supplies? Order the Grey Water Tank Supplementary Kit with the fittings cut, pre-glued and/or threaded by us and ready to attach to your tank.